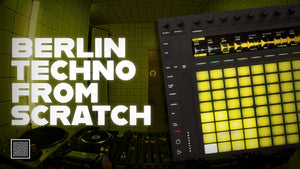 The idea is that together we build a full berlin techno track from scratch just by using Ableton Live & Push 2.
For that youn need two things :
-grab this product/files (free)
-watch the video here : https://youtu.be/FWsjSa7TUSI
Once you downloaded the file, extract them and place them into Ableton Places.
Then play the video on my All You Need Is Live Youtube Channel. (https://youtu.be/FWsjSa7TUSI)
Follow each step with me to get to the final result.
I also added the final session, so you can use it as reference. The final session containt the 8 tracks, and the session view arrangement with all the clip. You can play with the different scene and clip and record your own arrangement in the arrangement view (you can also keep the original one).

We decided to share this project, this way you can recreate your own version of the track, make a remix, be a good base for inspiration, or simply play with the project and have fun.
Inside the project you can find :

- 7 Drums samples.

- 8 Midi track loaded with Instrument Racks and Effects.
- A lot of our racks that are available for free on our Youtube Channel " All You Need Is Live"
- Our personnal Echo, Delay & Reverb Default Presets.

IMPORTANT!
You need Ableton Live Suite 11.0.12 minimum to run the Template. You only need Ableton Live, no third party plug in needed.
BUT
You can still recreate 90% of the track with Live 10 if you follow each step from the video.
Find out more here : https://youtu.be/FWsjSa7TUSI
Have Fun