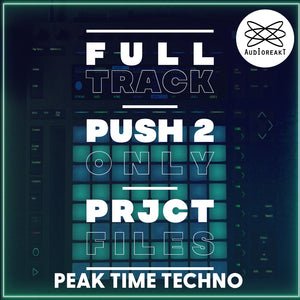 The original concept was simple : create a full Peak Time Techno track from scratch just with the Push 2.
This is the Ableton 8 tracks project that we've created from scratch with the Push 2 from this concept.
You can watch the full process of creation here : https://youtu.be/aoaQqqwyxdc

You can get this project for free, indeed there is a promo code in the video mention above, that's make the project file for free, just go watch the video and pay attention carefully to the video.
We decided to share this project, this way you can recreate your own version of the track, make a remix, be a good base for inspiration, or simply play with the project and have fun.
Inside the project you can find :
- 1 Custom Drum Rack loaded with 6 Drum Shots and 2 Percussion Shots
- 7 Midi track loaded with Instrument Racks and Effects.
- A lot of our racks created and available for free on our Youtube Channel " All You Need Is Live"
Have Fun