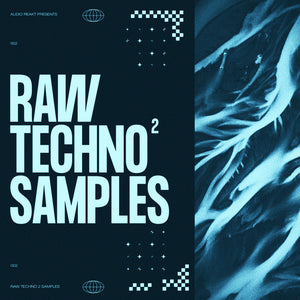 Audioreakt is proud to introduce you : Raw Techno 2 Samples!
We are back on the edgy and hypnotic side of the techno for some really intriguing and mysterious sounds…
For this one we've been inspired by label such as Polegroup, Mord, Token, Planet Rhythm, Hayes, SK Eleven, Soma Records, Klockworks, Dystopian, Ostgut Ton etc…
Inside you can find punchy and edgy drums sounds, coming as one shot and loops. We also added some deep and groovy sub and bass loop.
We put a lot of efforts into creating weird texture, to pair with some organic noisy loop to create a unique atmosphere to your track.
 Finally a lot of dissonant and hypnotic synth loops, along with some groovy percussion loop.
Moreover, some of our loops come in two different versions: one raw without any effect, and one Wet with some effect such as delay and reverb. This way you can either take a Wet loops (ready to use loops, but you can also take the raw version and apply your own sfx to really make it your own.
We also included 15 construction kit to help you start your next masterpiece. The construction kit are basically the 15 short track you can hear in the demo.
On top of that, we created an Ableton Drum Rack with all our one shot samples loaded inside. Each Drum rack track has a sampler loaded with sample that you can easily switch from one to another, and we add some extra macro to easily shape your sound (pitch, HPF, LPF, Decay, Sample start, volume, pan). This way you can easily choose the perfect sample and quickly write your drum pattern. You need Live 10.1 minimum to run the rack.
No excuse anymore, you got all the elements you need to create your next masterpiece!
More than 1.8 Gb of massive audio loops and sample shots are available inside. All the loops are tempo and key labelled, the kick are key-labeled as well. All samples come in high quality format Wav 44.1 KHz/24Bits and they are all 100% Royalty Free.
Pack Details (636 Samples):
BPM : 135
Shots (231)
55 Kicks
31 Closed Hats
30 Open Hats
13 Claps
26 Snares
15 Percussions
21 Rides
20 Toms
20 Synth Shot
Loops (405)
55 Kick Loop
55 Kick Rumble Loop
30 Hats Loop
30 Chh Loop
30 Ohh Loop
20 Ride Loop
20 Tom Loop
20 Perc Loop
14 Bass Loop
46 Sub Loop
50 Synth Loop
15 Noise Loop
20 Texture Loop
Midi
46 Midi Sub
NB: MIDI FILES FOR SYNTH LOOP AND BASS LOOP ARE NOT PROVIDED